Enameled lavastone is a volcanic stone from the center of France (Massif Central – Auvergne).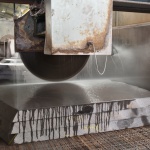 This stone was used for construction (ex. Cathedral of Clermont Ferrand) and is strong and enamel temperature heating (1000 C°).
Moreover, it is frost resist and the enamel is insensitive to UV which makes it particularly suitable for outdoor use.
We use it for the production of :
Worktops and kitchen splashbacks
Bathroom tops
Shower wall
Massive shower tray
Map view
Outdoors tables (plain or painted)
Bar and restaurant counters
house name plates
Cladding
Pavements and tiles
Ovens and chimneys